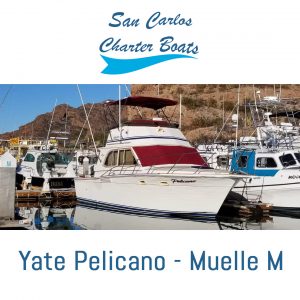 Our family has professionally operated both private yachts and charter boats in San Carlos, and across the entire Sea of Cortez, for over 40 years. This next generation of bilingual captains and crew are operating our boats located in San Carlos, Sonora, Mexico.
Yate Pelicano is located at Pier M in Marina San Carlos.
Our charters offer a variety of activities including:
· Leisure Cruises
· Nature Tours
· Fishing
· Scuba Diving
· Snorkeling & Swimming
Nuestra familia ha operado profesionalmente tanto yates privados y yates de renta en San Carlos y en todo el Mar de Cortés, durante más de 40 años. Esta próxima generación de capitanes y tripulación bilingües está operando nuestros yates ubicados en San Carlos, Sonora, México.
Yate Pelicano está ubicado en Muelle M en Marina San Carlos.
Nuestras cartas ofrecen una variedad de actividades que incluyen:
· Cruceros de placer
· Tours ecoturisticos
· Pesca Deportiva
· Scuba Diving (Buceo)
· Snorkeling y natación
Phone: +52 1 662 377 6655 (MX)
Address: Marina San Carlos – Muelle M, San Carlos, Sonora Mexico 85506 (in front of HammerHead's Restaurant)
Website: https://www.sancarloscharterboats.com/
Email sancarloscharterboats@gmail.com
Days & Times Open (hours of operation): Sunrise to Sunset – 7 Days a Week!
Del amanecer al atardecer: ¡7 días a la semana!