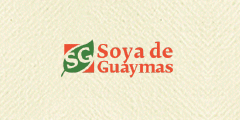 Soya de Guaymas carry natural health products such as vitamins, herbs, teas, supplements, natural herbal medicines, cereals, granola, tonics, jarabes, herbal coffee substitutes, cosmetics, soy products, etc. The store is located on the main street (Tetakawi Blvd) near the Comex paint store.
Soya de Guaymas San Carlos is owned and operated by locals, Matt and Mayra Young. Mayra's family started the Soya de Guaymas stores nearly 25 years ago. They now have 7 stores serving the Guaymas and Empalme areas. Alternative nutritional and wellness treatments including Iridology, Bach flowers and SCENAR are also offered. They are open Monday through Friday from 9:00am – 6:00pm, 10:00am – 5:00pm on Saturdays and closed on Sunday. The staff is bi-lingual and will try to help out with any special requests that the San Carlos community may have.
Stop by and say hi or call at 132-5220 for more information.
Matt and Mayra have wanted to go way beyond what the various Soya de Guaymas stores have to offer and they have done just that. I was so excited to go into their shop a few days ago and find some very different and incredible items that could be purchased for gifts or for myself.
First, let me tell you about the Adagio Zodiac Teas. These delicious loose leaf teas come in colorful metal boxes from Aries to Pisces and are all very different. I picked the Cancer tin as I was born in July. This is a white and green tea infused with fruit flavors. This tea includes chamomile, rose hips, cornflowers and marigold petals. It is delightful. Aries offers a spicy mixture of black tea and masala spices. Spices such as cinnamon, cardamom and red peppercorns make for a luscious drink. Taurus offers a combination of oolong and white teas infused with peach while Libra offers a balanced blend of black tea and sweet strawberries, chocolate and cream.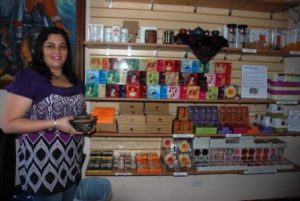 Mother's Day is right around the corner and what could be more perfect than a Sunlit Blooms set? This set is beautifully packaged and contains three different types of teas. On top of that there is a red bloom. This is a black tea blossom, a hand woven tea cluster that magically unfolds to reveal a pink flower hidden within. It tastes good too!
To go along with these wonderful teas, Matt and Myra have a variety of teapots and teacups. I purchased a wonderful teacup with what I think is a gecko on its side. The teapots come from the Yixing region east of eastern China. These teapots date back to the Sung Dynasty (960-1279) when the Purple Clay that they are made of was discovered. The purple clay used by artisans contains natural minerals from which they create beautiful products of various forms and colors.
I was worried about the clay and asked if it contained lead. I went so far as to call the company in California. I talked with a very nice man who explained that the ceramics do contain lead, but it's minuscule and way lower than the allowable amount designated by the FDA. It is something like 0.000023. Certainly nothing to worry about.
These teapots were initially shipped to the West by the Dutch through the East India Trading Company in 1610. The pots have maintained their unique reputation both in China and abroad. They are known as "the best vessels for brewing" by tea aficionados in China and are surprisingly reasonably priced.
In addition to lovely teapots, teacups, beautiful ceramic containers in which to put some of the Vitamin Shoppe's new luscious teas, the shoppe is now carrying many other new and exciting items. Colorful floating floral candles, both large and small, can be used in a fountain, as a table decoration or even in your pool. The other day I stopped in to see what was new (Matt and Mayra are always adding new items to their already well stocked shoppe) and purchased some excellent smelling incense. This particular incense is another new item and packaged with a beautiful little ceramic orchid in which to place and burn the incense. There are several flavors including vanilla, rosemary, orchid, cinnamon, orange, lotus and geranium.
Do stop in to Matt and Mayra's Vitamin Shoppe (Soya de Guaymas) to say "hi" and see all the exciting and beautiful new items. They are located in San Carlos on Tetakawi Blvd between Comex and Pollo Feliz.