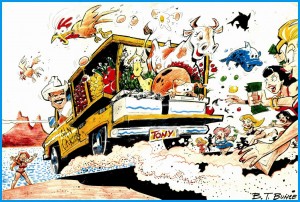 In 1982, a 20 year-old entrepreneur decided to make his living in San Carlos by selling fresh fruits and vegetables from the back of his bright yellow Chevy truck. His name was Tony Vazquez, and back in "the day", he drove his grocery-laden truck from neighborhood to neighborhood. He was, in fact, the first food-delivery service in this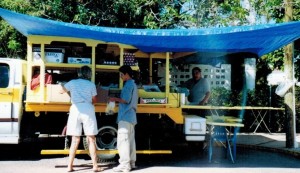 little town. Pictured on the right is Tony and his fruit and vegetable stand in 2001.
Luckily for San Carlos, Tony found his passion and calling in the food services industry. And today, 33 years later, Tony continues to sell his fresh produce to the community, as well as tacos and other typical Mexican fast food and popular seafood cocktails.
Tony's Place is a family affair. His wife Priscila and his daughter Monica are familiar faces at his stand.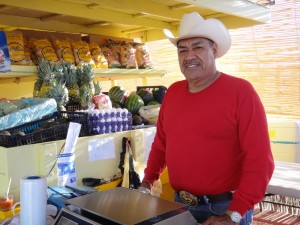 Contact Us
Location: In the lot between the OXXO and the yellow Talavera store (across from Tortuga's restaurant).
Phone: 622-152-4727 (cel)
Email: tonysplace.ar@gmail.com
Days & Times Open (hours of operation): Open Every Day
Have you shopped at Tony's Place? What did you think?