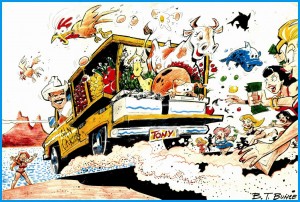 In 1982, a 20 year-old entrepreneur decided to make his living in San Carlos by selling fresh fruits and vegetables from the back of his bright yellow Chevy truck. His name was Tony Vazquez, and back in "the day", he drove his grocery-laden truck from neighborhood to neighborhood. He was, in fact, the first food-delivery service in this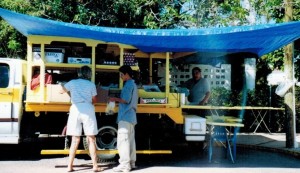 little town. Pictured on the right is Tony and his fruit and vegetable stand in 2001.
Luckily for San Carlos, Tony found his passion and calling in the food services industry. And today, 33 years later, Tony has expanded his business to meet the needs of the whole community.
Introducing "Tony's Place", a one-stop shop for all your fresh food needs. From home-made salsa bandera, guacamole, and ceviche; to meats, chicken, fish and shrimp; to dairy products like cheese, sour cream and butter; canned goods, baked goods, nuts, and specialty items that you can't find in Mexico, Tony's Place has a wide variety for you to choose from.
Looking for fresh organic produce? Tony's is the place to get it. Choose kale, Swiss chard, yellow grape tomatoes; and many herbs and seasonings like mint,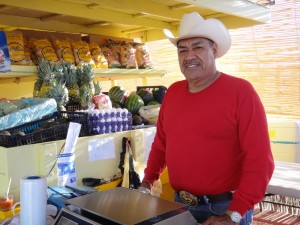 basil, rosemary, dill, watercress and more. Ask at the store for this locally-grown 100% organic aquaponic produce products.
In his new location along the main street in San Carlos next to the Santa Fe grocery store, Tony has also opened a restaurant, which has seating for 50 people. The menu is quite extensive, ranging from stews, tacos, soups, tostadas, sandwiches, quesadillas, and many other beef and seafood meal options. Most popular are the the lamb stews and lamb tacos, and the many shrimp dishes. Tony's Place is licensed and the restaurant sells beer, wine, and spirits.
Tony's Place is a family affair. His wife Priscila and his daughter Monica are familiar faces in the kitchen, and his son Osvaldo manages the Cocos el Valdo bar near the Castaway Kids' Thrift Store. This is a popular place to buy Mexican seafood cocktails.
And if you're wondering what happened to the bright yellow Chevy of 1982. It is still used for the business, as the produce stand for the oranges, apples, lemons, and other fresh products that Tony sells "to go".
Open every day from 9:00am – 8:00pm, come in and visit Tony's Place and see what he has available for you.
Licensed restaurant and bar. Come and enjoy authentic Mexican food and drinks.
English and Spanish Menus (click to enlarge)
Contact Us
Phone: 622-152-4727 (cel)
Address: Located on tha main street in San Carlos, next to the Sante Fe grocery store
Email: tonysplace.ar@gmail.com
Facebook: 
Days & Times Open (hours of operation): Open Every Day, from 9:00am – 8:00pm.
Have you eaten at Tony's Place? What did you think?