Welcome to a better banking experience
Welcome to CIBanco in San Carlos. See why we are a better banking

experience.
Branch Manager, Daniel Marin, has been in the financial services industry for over 24 years. He is thrilled about leading his new CIBanco team, all of whom have been hand-picked to work in this branch. All of the staff are bilingual, live in or near San Carlos, and have an excellent understanding of the needs of the San Carlos community.
We'll save you money
Free Personal checking accounts with a minimum monthly balance: CIBanco offers a free Personal chequing account to everyone (not only seniors), as long as the average minimum monthly balance is $50,000 pesos (approx. $3,300 USD or $4,000 CAD) in a CIBanco account and/or PRLV or Cedes (fixed term investment, like a CD). If you do not have that minimum monthly average balance, you will pay a monthly fee of $50 pesos plus IVA (16%), which will total $58 pesos per month (these charges are effective June 1, 2015).
With your checking accounts, you receive free checks, an ATM card, and access to your online banking site via an Online Banking key fob (replacement cost is $350 pesos + IVA).
You can open an account with a minimum $1000 pesos deposit. Personal accounts are in Mexican pesos only.
Minimal transaction service fees: There are very few transactional service fees on accounts — no withdrawal fee, no fee for taking out money from the CIBanco ATM, no check writing charges on Personal accounts, and no fee for paying utility bills. However, effective June 1, 2015, for Personal Account holders, you are allowed to complete 5 wire transfers per month for FREE; after that, each wire transfer will cost $3 pesos + IVA if you do it online; and $15 pesos if you do it with a cashier at the bank.
Lower ATM fees:  The ATM withdrawal fee for non-CIBanco cardholders is lower than that of other banks — in some cases, 40% lower! Currently, the service fee for withdrawing money at Banamex's ATM is 29 pesos if you are using a non-Banamex ATM card. At CIBanco's machine, the same withdrawal only costs you 17.4 pesos. We now have two ATMs at this location in San Carlos, available 24/7.
Business Accounts: Do you own a small business? Or a large one? Come in and talk to us about opening or transferring your accounts to us. We'll make it easy for you. And similar to the personal accounts, there are no charges for business accounts if you maintain a minimum average monthly balance. Minimal fees for check writing and wire transfers, and deposits and online access is free. And we offer both Mexican peso and US $ accounts for businesses. Ask us today for details.
Home Owners Associations; Organizations & Clubs: No fee banking for all HOAs, Organizations & Clubs allows you to keep more money in your own business. Similar to Business Accounts, you must maintain a minimum monthly average balance. Ask us for details today. Those with an A.C. registration can open both a Mexican peso and US $ account. Interested? We'll make it easy to open an account or to switch from your existing bank.
We'll make you money
High interest rates:  As a full service bank, CIBanco offers a variety of investment fixed deposits at very competitive rates. For example, a 91 day fixed deposit (CD) of $100,000 pesos ($6,600 USD) will pay you an interest rate of 2.35% after taxes (as at June 19, 2015). Try finding that short-term rate at a US or Canadian bank nowadays.
Don't want to lock in your money for 91 days? No problem. CIBanco has investment products paying interest anywhere from 1 day to 365 days. The bank also sells a broad range of mutual funds.
We'll provide convenience
Foreign Exchange services available: CIBanco will exchange US dollars to Mexican pesos (and vice-versa), and the rates are listed in the front window daily. By law, you can exchange $1,500 USD a month. Similar to the other banks in Mexico, you cannot open a US $ account unless you are operating under a business name.
CIBanco will also exchange your Canadian cash and Euros. Or if you need to buy Euros or Canadian dollars, you can do that here. Call the bank if it is a larger amount and they will order the currency for you at no charge.
As a leading foreign currency exchange bank, CIBanco is able to deposit your check drawn on a US or Canadian bank account into numerous banks in Mexico, including Banamex and Santander. This is a popular service used by many locals here in San Carlos. In fact, you don't even need to open an account at CIBanco to do this, but you will have to complete a "trading agreement" with appropriate identification that CIBanco will keep on file.
Short waiting times: Say good-bye to long line-ups and waiting times. With 3 cashiers available to serve you, you will rarely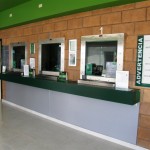 need to wait long to do your banking.
Flexibility in how you do your banking: The choice is yours. Come in to CIBanco – we love seeing you. Or do your banking through the ATM or online. You can also call us with deposit or re-investment instructions. Personalized service is what we are all about.
Longer banking hours: CIBanco's hours of business are from 9:00am – 5:00pm daily. And of course our two ATMs are available 24 hours a day, 7 days a week.
Lots of parking: We have plenty of parking at the front and the back of the building, with access to the inside of the bank from both parking locations.
We'll protect your money
On-site guard: Our on-site security guard will make sure your transactions in the bank and outside by the ATMs are safe. He is here Monday to Saturday from 8:00am – 6:00pm.
Deposit Insurance: Similar to FDIC (US) and CDIC (Canada), deposits at CIBanco are protected up to statutory deposit insurance limits. The Mexican equivalent of FDIC / CDIC is called IPAB (Instituto para la Protección al Ahorro Bancario). Based on the set formula, each client's limit on all accounts total at CIBanco is 2.4 million Mexican pesos (approx. $157,000 US). Some investments, such as mutual funds, are not covered by IPAB. Check with your banker for details.
Additional products to meet your needs 
CIBanco is the first bank in Latin America to offer the CI Cash card, a multi-currency debit card that can be used in Mexico, USA, Canada, England, and in Europe (Euros). Ask for more details at the branch, or click on the brochure (it is in Spanish).
Certain Immigration statuses, along with proof of income in Mexico, may allow you to qualify for a car loan. CIBanco's car loan interest rates are the lowest of all Mexican banks. Please ask for details at the branch.
Make the right choice
Let Daniel and his team make your banking comfortable and worry-free.
If you are looking for an alternative to your current banking situation, then speak to Daniel Marin at CIBanco and see if this is the right bank for you.
Contact Us:
Address: On the Main Street in San Carlos, Plaza la Mar #5
Phone: 622-226-0129 or 622-226-0092 (San Carlos branch); 011-52-622-226-0129 (from US & Canada)
Email: dmarin@cibanco.com (Daniel Marin)
Website: www.cibanco.com