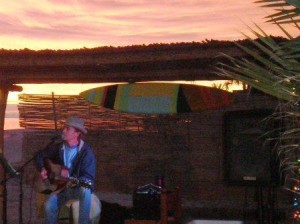 Local musician, Eric Holland is an Arizona Native. He has a Masters of Education in Bilingual studies. Eric's ESL students helped target his inspiration and ideas for the ballads and dime-store ditties on his debut CD "Without Borders".
Eric is a gifted, solo acoustical guitarist, who also plays harmonica while singing beautiful ballads / songs.
Eric's Schedule:
You can watch Eric play throughout the week at several local restaurants. For an up-to-date schedule, please see the most recent Newsletter.
Eric singing Zapata
a Spanglish perspective of the life and death of Emiliano Zapata and his mysteriou romance of 1910
http://www.youtube.com/watch?v=UgFssbuyzCA
Contact Eric Holland:
Phone: MX 622-125-0188 and verizon 480-518-1022
Email: bebackinabit@hotmail.com
Facebook: Facebook
Eric's new CD is available!
"Boarders, Battles & Beers" (Fronteras  Batallas  Y Cervezas). Some of the new songs include:
Una Mas Cervesa – This Eric penned song is also being recorded by a San Carlos group called "Los Twins" by MEX MO productions on their new CD "Three Quarters".
Betty and Willy – Local Arizona blues legend Hans Olson is helping Eric with this blues rocker that's sure to make you tap your toes!
Villa – Tribute song to the Mexican legend, Pancho Villa.
Aracely – Love song with a great melody!
Chavez – another tribute song.
Rate Eric Holland & Leave a Comment: