Medical Diagnostic Services (MDS) is here to serve you!
Medical Diagnostic Services (MDS) features a broad array of diagnostic and non-diagnostic services with the latest technologies. Dr. Micheal Laux and his dedicated team of professionals is delighted to be part of the local community and looks forward to being able to serve you with the highest quality of service and friendly smiles!
We Put Patients First
It is a privilege to provide leading-edge and quality imaging services. We strive to always be at the forefront of technology and we are proud of our fast turnaround times, quick appointments, and our professional, well-trained English and Spanish speaking staff.
At MDS, we provide you with North of the Border diagnostic & imaging equipment and expertise at South of the Border prices!
We accept VISA, MasterCard, and Debit card payments.
La información en español (haz click para agrandar)
For all our Patients, we offer:
•  Top of the line equipment
•  Knowledgeable and friendly staff
•  Easy registration and clean, comfortable facilities
•  Minimal wait times
•  Early morning and Saturday morning appointment hours available
•  Free parking
Check What's Up San Carlos' newsletter for our monthly specials.
For Referring Physicians, we offer:
•  Report turnaround usually within one business day
•  Images and reports available via PACS, film or CD
•  Quality imaging and specialist radiology reads
•  All imaging studies include interpretation by our staff Radiologist at no extra charge.
With plenty of free parking, convenient office hours and flexible appointment scheduling, Medical Diagnostic Services (MDS) is the Diagnostic Center to turn to when you need dependable medical service in San Carlos.  It's your one-stop imaging shop!
Our Services include:
Imaging: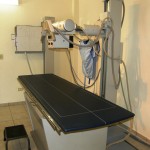 Digital X-Ray
Digital Mammography
Dental Panoramic X-Ray
General, 3D Ultrasound and Doppler Ultrasound
Bone Densitometry
Complete Body Composition scans
Lab: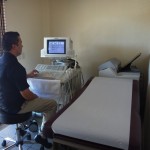 MDS provides blood draws, tissue samples, biopsies, pathology and pap testing – everything from basic/simple testing to the most comprehensive and complex of testing. Although testing will initially be carried out offsite, all testing will be completely computer automated with the newest most advanced technology, making errors virtually non-existent as opposed to manual processes where there is room for error. Turn around time on most common testing will be 24hrs whereas specialized testing may take longer depending on the specific test requested.
Diagnostic Services: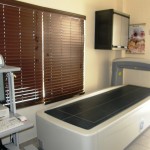 Spirometry (pulmonary function testing) for children and adults alike. Spirometry is a valuable tool for the diagnosis and treatment evaluation of pulmonary diseases such as emphysema (COPD), chronic bronchitis and asthma.
24hr Ambulatory Blood Pressure Monitoring – a key diagnostic tool used to detect abrupt spikes in  lood pressure usually during the nighttime hours in unsuspecting patients.
24hr Holter Monitor for Cardiac evaluation and detection of arrhythmias.
Well Woman Checks: we provide preventative OB-GYN check up packages for you to choose from.
Non-Diagnostic Services:
Prescription fulfillment Service: Are you sick of running from pharmacy to pharmacy in San Carlos or Guaymas trying to find your medications? MDS will provide this service to our clients in which we will do the leg work and have all of your monthly meds ready for you to pick up on the day you specified. Have more questions about this service? Stop by and we'll gladly answer them!
Dr. Gann's Diet of Hope
What do too many cervezas, tacos, and tortilla chips add up to? Extra pounds you carry around which is hard on your heart and your body in general.
Obesity has become epidemic in our culture, and studies show that 66% of Americans are overweight or obese. We can't even escape it by moving to Mexico, because in fact Mexico has recently surpassed the US and is currently #1 worldwide in obesity. Sadly, Sonora is the state with the highest incidence of childhood obesity in Mexico.
What are the consequences of obesity?
Life expectancy is drastically reduced (by as much as 20 years).
Quality of life is substantially impaired due to the wide array of health related issues such as Diabetes, Hypertension, Cardiovascular, renal and liver disease.
Other commonly overlooked consequences of obesity are generalized physical impairment, depression, anxiety, osteoarthritis and other inflammatory diseases.
If you're looking for a solution to fighting those extra pounds, look no further than Dr. Gann's Diet of Hope, a medically supervised weight loss program developed by Interventional Cardiologist, Dr. Dietmar Gann, M.D., F.A.C.C. Anyone that is overweight and is ready to make the changes needed to lead a healthy life will benefit from this program.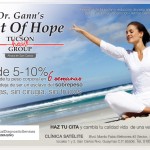 How does the program work?
It is an ongoing educational approach that will help you change unhealthy habits for healthy habits. All in all, it is a lifestyle change which is guided by a physician within a well proven protocol.
What can I expect from Dr. Gann's Diet of Hope?
You can expect to lose a minimum of 5% of your initial body weight in the first 6 weeks, and some patients lose up to 15%. It is common that diabetic patients on insulin, no longer need insulin after this period, and those taking oral diabetes meds have a drastically reduced dose. Cholesterol levels improve and triglyceride counts can be cut in half! Patients will feel an alarming improvement in agility and stamina, a decrease in aches and pain, reduced anxiety along with improved sleep.
How do you know this?
More than 4000 patients have graduated from the program over the past 3 years, including 25 local patients since opening the Diet of Hope program here in San Carlos. The Diet of Hope has a 96% success rate through 12 weeks and maintains a 78% success rate at 52 weeks.
What is the cost of the program?
$795.00 US
What does it include?
Laboratory testing before starting and after 12 weeks.
DEXA body composition test before starting and after 12 weeks.
An extensive initial evaluation which includes base metabolism calculation
(6) weekly visits for weight and measurements. Adjustments to meal plans.
(3) bi-weekly visits for weight and measurements. Adjustment to meal plans.
After graduation, monthly visits are recommended for 6-12 months*
*these visits do incur in a small fee.
The results have been extraordinary. You owe it to yourself to sign up today. Your body will love you for it! Call MDS Lab & Imaging for an appointment if you are tired of being sick!
Your health is our business
When you visit our San Carlos clinic, you'll benefit from our:
• Informative consultations
• Caring, attentive and bilingual staff
• Flexible payment options
Contact us today to make an appointment
We are here to meet your health needs.  For more information about our health care services or to schedule an appointment, please call MDS Lab & Imaging at 226-2060 today.
Phone: 622-226-2060 (Office); for general inquiries, appointments, and emergencies
Address: Tetakawi Blvd., No. 2, Interior 1 & 2, San Carlos.  Located hear the Flecha Gas Station (see map below)
Email: mds.sancarlos@gmail.com

General MDS Business Hours: Monday – Friday: 7:30am – 5:00pm; Saturday: by appointment only
Dr. Laux's Office Hours: Monday – Friday: 8:00am – 4:00pm; Tuesdays and Thursdays also has evening hours from 5:00pm – 8:00pm; Saturday: by appointment only
Lab Draws:  7:30am – 10:00am (walk-ins). After 10:00am, results will be available the next day.
Imaging: 7:30am – 3:00pm (by appointment)
Diet of Hope: 2:00pm – 5:00pm
We accept VISA, MasterCard, and Debit card payments.
Have you used Medical Diagnostic Services (MDS)? What did you think?