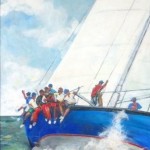 Ray Mahoney was born and raised in Rochester, New York, but she has lived all over the US. She was an art teacher and then a commercial artist, so her whole working life has been in the arts. She also owned a small printing company. After coming to San Carlos for many years with her husband, Ray now calls it home, and has been living here full-time for the past 13 years.
Ray is a painter. She prefers acrylics, but still dabbles in drawing, water colors and sometimes oil. In fact, she most enjoys painting murals. In the US, she did mural and window work for IHOP (the pancake restaurant), La-Z-Boy furniture, Cerreta Candy Company, and many auto dealerships. Here in San Carlos, Ray has painted murals in the Bahia Delfin condos. Her artwork is also displayed in homes in the Caracol, Country Club, Royal Golf Club, Costa Bella, and Loma Del Mar. Ray also paints very colorful local scenes that she then makes into Poster-sized Art Prints. Much of Ray's work is philanthropic. For many years, she created the sketches and layouts and then directed the painting of the backdrop for Rescate's very popular Melodramas.
Her favorite artist is Andrew Wyeth, one of the most popular American painters of the 20th century. Primarily a realist painter, he was often referred to as the "Painter of the People," due to his work's popularity with the American public. Ray likes old-fashioned realism and the touch of humor of Norman Rockwell.  In her artwork, her themes are often that of local scenes.
When asked about her creative process, she explains: "That's tough. When I am working just for myself, I "drop everything" and just keep working. Sometimes a "Painter's Block" happens and there are weeks when I do nothing for myself. When it is a job for someone else, I tend to keep more disciplined hours. It is usually easier to follow an idea given to me by a client because they often have something very definite in mind (e.g. a family or beach scene.)
Ray makes her work unique and truly her own by adding a touch of humor or a memory that we can all share. Her best painting tip is that if a painting doesn't work, leave it alone for a period of time and then go back to it. Often you will then immediately see what the problem is.
If you are interested in learning how to paint, or in improving your abilities, you are in luck. Ray gives private lessons, and she is available by email mahoneyray@yahoo.com or call 226-1632.
Contact
Email: mahoneyray@yahoo
Telephone: 622-226-1632