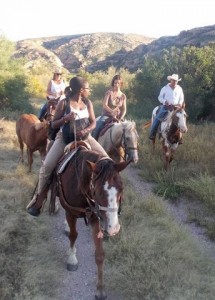 Horseback trail rides through our beautiful desert up to Nacapule
You can enjoy our Sonoran desert with our amazing trail rides. We offer 1, 2 and 3 hour trail rides for all ages and abilities. On top quality trained horses and guided tour. Costs per person: 1 hour ride, 500 pesos. 2 hour ride, 750 pesos. 3 hour ride, 950 pesos. 2 hour sunset ride, 950 peso. We offer a BBQ after your trail rides for 200 peso per person.
Have a horse themed Birthday Party! All ages, minimum group of 4 and max 10. Includes 30 minute horse ride, petting zoo, hot dogs or beef burgers, bring your own birthday cake (2 hours total) 4 people cost 3000 peso, each addition person costs 500 pesos.
Overnight stay in mobile home at the ranch sleeps 2 people: 800 peso, 1 night stay only   .
Call for directions and bookings must be 24 hours as all our tours are private party only.
Contact for (English) Nataile 622 101 2208
Contacto para (Español) Mario 622 176 2743
Facebook