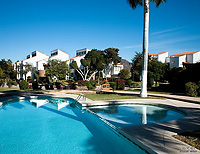 A unique vacation getaway in a privately owned condo on San Francisco beach, San Carlos.

Condominios Pilar is located on 5 miles of beautiful white sandy beach.  This beach is well- known for watching dolphins go by throughout the day, and enjoying a margarita/cerveza while watching a magnificent sunset every evening. This home-by-the-sea has a variety of things to enjoy such as a  sparkling pool, tennis and pickleball court, and the best beach to collect an abundance of seashells. The perfect place to relax and rejuvenate!  Don't miss dinner and drinks at our on-site Mar de Cortez restaurant and bar.
For water sports enthusiasts, there are many beautiful beaches around San Carlos, spectacular diving/ snorkeling, kayaking, paddle boarding, offshore fishing, or maybe charter a Margarita Sunset Cruise.
Beach condo rental rates starting at $70/night for a studio.
Amenities and Rental Information
www.seaofcortezrentals.com
Facebook: Sea of Cortez Rentals
Phone: (602) 526-0276  (Monday – Sunday, 8am to 6pm. Please text after hours)
Email: vmont550@aol.com
Contact Vonda Montenegro
Have you stayed at Condominios Pilar? What did you think?