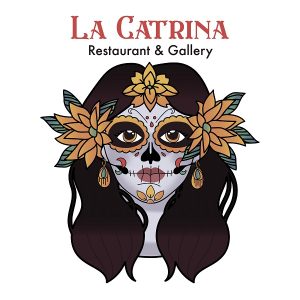 La Catrina Restaurant & Gallery welcomes You!
La Catrina Restaurant is one of the newer restaurants in San Carlos. We pride ourselves on our excellent cuisine and our customer service. Come in and give us a try.
We are located on the main street Tetakawi Blvd at KM 7. As you are driving out of town, we are on the left side of the street (non-beach side). Drive until you get to the San Carlos sign, and turn at the roundabout back towards town. Look for our large and colorful Catrina mural to find our restaurant. We also Deliver for a small fee of 45 pesos.
We have the freshest seafood in town. Feast on one of our many delicious Shrimp meals — breaded, garlic, coconut, mango, rancheros, or try a sampling with the Shrimp Carousel — all meals are accompanied with rice and salad. If you're in the mood for fish, select from 5 fish fillet options, including our popular grilled stuffed fillet with crab and shrimp.
For starters, try our stuffed peppers with marlin or shrimp; our tacos, quesadillas, or a Seafood Cocktail, with a mix of fresh and cooked shrimp, clam, octopus, conch, oyster, scallop, red onion, tomato, cucumber and shrimp broth. And you must order our famous Molcajetes — you choose either a hot or cold option, filled with a delectable assortment of seafood. Another popular starter is the Tuna Blueberries Tostada, a mix of fresh tuna, blueberries, avocado, red onion, and cilantro.
Find your new favorite Ceviche dish at La Catrina. With refreshing combinations of shrimp, fish, scallop, octopus, citrus and spices, we've got several options for you. And if you are looking for something with a little more heat, then try an Aguachiles dish instead. Aguachiles are a Mexican version of ceviche where the marinades are hotter and spicier and the ingredients aren't marinated as long as traditional ceviche.
Not in the mood for fish? We have Creamy Green Chicken Enchiladas, hamburgers, and often the Daily Specials include Surf and Turf, with a delectable cut of beef.
We serve breakfast on Fridays and a breakfast buffet on Saturdays & Sundays starting at 8:00am. Come and try all your favorites, including omelets, Eggs Benedict, chilaquiles, French toast, hot cakes and more.
We have both indoor and outdoor seating — with several heaters to make eating outdoors comfortable during the winter months, and air-conditioners inside for the summer months. With seating for 40 people inside and another 40 outside, we are able to take care of your party, whether large or small. We are licensed and carry an assortment of beers, wine, spirits, and cocktails. Don't see your favorite wine on our menu? We charge a 100 pesos corkage fee if you bring your own bottle.
Daily Specials
Ask your server for the Daily Specials — Surf and Turf with Filet Mignon or Rib Eye with Lobster or Jumbo Shrimp; or King Crab legs, Salmon, or Halibut — we aim to please you with a variety of special meals that you will only find here. We also serve two Mexican dishes each day for lunch from noon – 3:00pm  —  check out our restaurant ad in the weekly newsletter for details.
We have plenty of free parking along the side of our restaurant and several spots along the front.
Menus (click to enlarge)
Entertainment this week
Check the weekly whatsupsancarlos newsletter for up-to-date entertainment.
Our Gallery
Come in to browse all the Mexican handicrafts we have in the restaurant. Artwork for your walls, wooden painted dining chairs and benches, hats, and lots of colorful home decor for you or for that perfect gift — it's here and for sale. If you want something custom-made, please ask Jorge the owner. He knows the local artists who are able to make any type of furniture or chandelier. 
Contact Us
Phone: 622-136-9469 (cell or WhatsApp) for reservations, for your "Take Out" order, or for Delivery (fee of 45 pesos).
Address: On the main street Blvd Tetakawi, at KM 7, San Carlos, Sonora, Mexico.
Facebook: La Catrina Restaurant & Gallery
Days & Times Open (hours of operation): Open Monday, Tuesday, and Thursday: 11:00am – 10:00pm; Friday: 8:00am – 10:00pm; Saturday & Sunday: 8:00am – 10:00pm. Closed on Wednesday