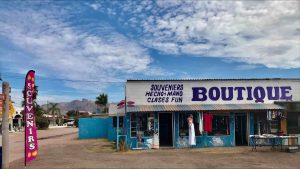 Creaciones (Creations) is a unique gift shop with a fun making work space.
We sell items made by local people. Four ladies crochet a variety of items: toys, swim suit covers, hats, slippers, scarves, flip flops, dog beds, dog sweaters, and more. Two ladies sew clothing and useful kitchen items. One lady makes jewelry and art from sea glass. We have stone and silver jewelry, light weight, big earrings; ceramics, magnets, pendants, bracelets, anklets, art, cards, tortilla warmers, microwave bowl pads, candles, water bottle covers, yoga medication pillows, t-shirts, and lots and lots more.
We offer classes and workshops in a variety of subjects like: wire wrapping, beading, painting, acrylic pouring, sea scape collages, hanging décor, boho beads, mosaics, ceramics etc. We are looking for new ideas and instructors to share in the fun. Stop in to see our class schedule and to inquire about having a private workshop party.

Phone: 6221631790
Address: Blvd Tetakawi 21A, San Carlos, Sonora Mexico 85506
Facebook: https://www.facebook.com/creacionessancarlosmx
Email Creacionessancarlosmx@gmail.com
Days & Times Open (hours of operation): Every day of the week from 11-5:00 November – June
Friday, Saturday, Sunday and Monday 11-5:00 July – October