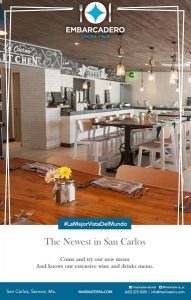 NOTE: Due to COVID-19, Embarcadero Cocina + Bar is temporarily closed. Stay safe everyone!
Embarcadero Cocina + Bar has reopened at Marinaterra Hotel with a new menu and an extensive choice of wines and cocktails. Specializing in fresh and cooked seafood, and Sonora select meat on the grill.
Enjoy indoor seating, at the bar and on the patio overlooking Marina San Carlos — with the World's Best View.
A breakfast buffet is served from 6:00am to 1:00pm. From Monday to Friday, there's a special price of 140 pesos for women. The cost on weekends is 210 pesos and weekdays 180 pesos.
There is also an à la carte menu.
2×1 Martinis  and 2×1 draft beer every day!
Open from 6:00am to 11:00pm Sunday to Thursday, 6:00am to 12:00am Friday and Saturday, and Bar until 2:00am.
Phone: (622) 225-2020 EXT 04
Address: Hotel Marinaterra on the Malecon at Marina San Carlos.
For more information, visit MarinaTerra's Website and Facebook
Have you eaten at Embarcadero Cocina + Bar? What did you think?