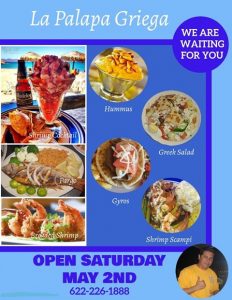 Enjoy delicious Greek food, seafood, and cold drinks in the open-air, palapa covered restaurant on the beach.
Our friendly staff is waiting to serve you.
Tuesday food special: Gyro Tuesdays with 80 pesos gyro, from 5:00pm – 8:00pm.
Hours: La Palapa Griega is open for lunch and dinner, Monday – Saturday, 11:00am to 9:00pm and Sunday 10:00am – 8:00pm.
Follow La Palapa on Facebook.
For questions or reservations, call 622-226-1888.
Entertainment:
Wednesday: Mike and Heidi, 5pm – 8pm.
Thursday: Sensa Nova, 5pm – 8pm.
Saturday: Assterisko, 2pm – 5pm.
Sunday: Sector 7, 2pm – 5pm.
Check the weekly newsletter for more live entertainment.
La Palapa Griega accepts credit cards (Visa and Mastercard).
La Palapa Griega Menu
(click to enlarge)
Daniel Moreno performing Ojalá de Silvio at the restaurant

Mark & Martin

Have you eaten at La Palapa Griega? What did you think?