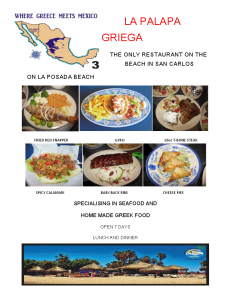 La Palapa Griega, San Carlos Sonora: Enjoy delicious Greek food, seafood, cold drinks and live music on Posada Beach.
You can sit in the open-air, palapa covered restaurant, or on lounge chairs on the beach.
La Palapa Griega is open 7 days a week for lunch and dinner. Our friendly staff is waiting to serve you.
Follow La palapa on Facebook.
For questions or reservations, call 226-1888.
Check the weekly newsletter for daily live entertainment.
La Palapa Griega Menu
(click to enlarge)
Daniel Moreno performing Ojalá de Silvio at the restaurant

Mark & Martin

Have you eaten at La Palapa Griega? What did you think?