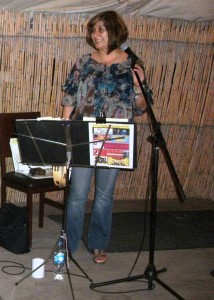 Elba cut her teeth with the music business in 1987, when she was serenading with local Guaymas mariachis using her soprano voice to woo the hearts of the locals and tourists.
Elba knows the San Carlos music scene and is often found performing with other local musicians like Steve Smersh and Omar Arriaga. She chants an amazing "Malagueña" singing the higher harmonies while Steve carries the verses with his Spanish guitar. Also do not miss their version of "Cielito Lindo" where she shows her diversity by singing the lower harmonies. They also do a tight-knit version of John Prine's "Angel from Montgomery" and Elbas favorite song "Summertime".
Contact Elba at elvas24@hotmail.com.
Please see the most recent Newsletter for Elba's schedule.
Rate Elba Santiago & Leave a Comment: