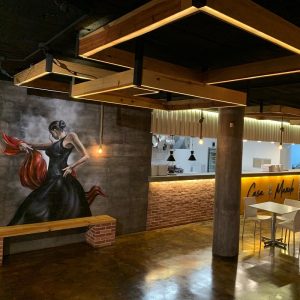 Restaurante Casa Manolo, serving authentic Mediterranean cuisine and more, is NOW OPEN in San Carlos.
¡Olé! may be the first word that comes to mind as you enter Restaurante Casa Manolo and see our Flamenco Dancer wall mural. Our restaurant has a varied and eclectic Mediterranean Cuisine inspired menu that is sure to please you. What are you in the mood for? Beef, pork, chicken, seafood, pasta, or vegetarian food — we have it all.
Dine in style with one of our gourmet meals; sip on a refreshingly cool cocktail; listen to live music on Friday evenings; enjoy a delicious meal and a beer while watching the boats come and go from the marina, or just take in a spectacular view from the comfort of your seat on our outdoor patio. We are conveniently located at Marina San Carlos, upstairs next to the Yacht Club and above Barracuda Bob's.
Some of our more popular menu items include: Seafood Paella — perfect for sharing (we also serve a Veggie Paella), Beef tenderloin with mashed potatoes and asparagus and don't forget the Tapas — over a dozen to choose from including smoked salmon, serrano ham, lomo Ibérico, Spanish chorizo and more. We also serve several salad options, and appetizers, such as Patatas bravas and Andaluza squid rings.
Drinks include but are not limited to Wine, Beer, and Cocktails. We charge a corkage fee of 250 pesos per wine bottle, and 350 pesos per liquor bottle. 
Ask the server for the Catch of the Day, Weekend Specials, or Off-menu Wines. We are happy to prepare your freshly caught fish — give us a call to discuss sides and costs. 
With both indoor and patio seating for over 50 people, there is always room for you to enjoy yourself at Restaurante Casa Manolo. We're also available to host your special birthday or anniversary party, wedding, or any special event…contact us for details!
We will reimburse you if you park in the Marina San Carlos paid parking lot. Just head up the stairs and our culinary delights await you.
Check out our Food and Drink Specials below!
Menus
Food & Drink Specials:
Tuesday: 2 Tapas and a glass of Wine for 100 pesos, from 2:00pm – 9:00pm.
Wednesday: Glass of beer is 20 pesos from 2:00pm – 6:00pm.
Entertainment this week
Check the weekly newsletter for up-to-date entertainment.
Contact Us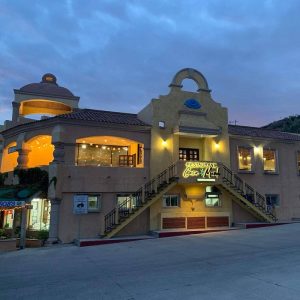 Phone: 622-170-4558 (cell & WhatsApp). Call for reservations or for your "Take Out" order.
Address: We are located in Marina San Carlos, above Barracuda Bob's and next to the Yacht Club. Edificio Marina San Carlos, Local 12. San Carlos, Sonora, Mexico
Email: restaurantecasamanolosancarlos@outlook.com
Website: www.restaurantscasamanolo.com
Facebook: Restaurante Casa Manolo
Days & Times Open (hours of operation): Open Tuesday – Thursday, 2pm – 10pm; Friday & Saturday, 3pm – 11pm; Sunday, 2pm – 10pm. Closed on Monday.
We do "Take-Out".