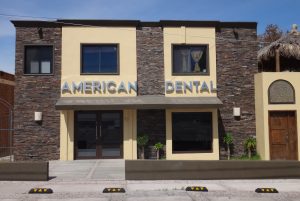 With over 37 years experience and in San Carlos since 1985, Dr. Pompa and Dr. Juan of American Dental are available to service all your dental needs.
We invite you to our renovated clinic conveniently located in the heart of San Carlos on Tetakawi Blvd, next to Thrifty Ice Cream.
Our promise is to provide our patients with an exceptional level of dental care in a most gentle, efficient, and professional manner. We pride ourselves in creating a warm, friendly, and comfortable atmosphere to make your visits more enjoyable.
Our bilingual staff is highly experienced. With our new, state-of-the-art equipment, we use all the latest techniques and technology to improve your smile. Our patients are our most important asset, and we strive to develop long-lasting, trusting relationships with all of our patients.
FREE INITIAL CONSULTATION!
Your initial oral examination includes a visual examination, charting, periodontal probing, diagnosis and treatment recommendations.
OUR SERVICES
Our team of dental specialists and staff strive to improve the overall health of our patients by focusing on preventing, diagnosing and treating conditions associated with your teeth and gums. American Dental offers a full array of dental services to help you maintain healthy teeth.
Our services include: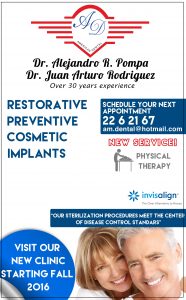 Teeth Cleaning
Scaling and Root Planing
Whitening
Crowns and Bridges
Implants
Root Canal Therapy
Bonding
Veneers
Sealants
Extractions
Dentures
Cosmetic Dentistry
Invisalign
X-Rays / Low Radiation
Our sterilization processes meet the CDC standards
Our focus is always on patient comfort and ensuring that you have a beautiful smile that you can feel confident about. Please contact us or book an appointment to speak with our team about available procedures and treatments that would be right for you. Call American Dental today at 226-2167.
PHYSICAL THERAPY & MASSAGE NOW AVAILABLE
Lic. Mariana Fortes, Physical Therapist, has an office at American Dental. She has a degree in Oncological Physiotherapy from the University of Guadalajara (Universidad Autónoma de Guadalajara). She has been practicing for 5 years in Obregon, and is now here in San Carlos. Mariana will also come to your home for physical therapy and massages. Contact her today for details.
 Services Include:
Electrotherapy, etc. – A popular type of electrotherapy is TENS (Transcutaneous Electrical Nerve Stimulation). This method of electrical stimulation primarily aims to provide a degree of symptomatic pain relief by exciting sensory nerves and thereby stimulating either the pain gate mechanism and/or the opioid system. There are also other types of electrotherapy treatments available.
Therapeutic Ultrasounds – Ultrasound therapy is the use of sound waves above the range of human hearing to treat injuries like muscle strains or runner's knee.

Dry Needling – Common conditions treated with Dry Needling include Back Pain, Neck Pain, Muscle Tension, Muscle Injuries, Sinus Problems, Headaches, Nerve Problems, Relieve Stress.
Cryotherapy and Thermotherapy – Cryotherapy and thermotherapy are useful adjuncts for the treatment of musculoskeletal injuries and soft tissue injuries. Using ice or heat as a therapeutic intervention decreases pain in joint and muscle as well as soft tissues and they have opposite effects on tissue metabolism, blood flow, inflammation, edema and connective tissue extensibility.
Kinesio Taping – Rehabilitative taping technique that is designed to facilitate the body's natural healing process while providing support and stability to muscles and joints without restricting the body's range of motion as well as providing extended soft tissue manipulation to prolong the benefits of manual therapy administered within the clinical setting.
Massage Therapy – Involves applying deep pressure on concentrated areas of tension and pain.
Contact Info for American Dental:
Phone: 226-2167 (Office) or 622-103-0968 (cell)
Address: Tetakawi Blvd., #37, (beside Thrifty Ice Cream), San Carlos, Sonora, Mexico 85506 (see map below)
Email: am.dental@hotmail.com
Facebook: American Dental
Days & Times Open: Monday – Friday: 9:00am – 5:00pm. Saturday: 9:00am – 2:00pm. We are available for Emergencies and after-hours too.
Contact Info for Physical Therapy and Massage:
Phone: 622-226-2167 (Office) or 622-855-7434 (cell)
Address: (In American Dental building) Tetakawi Blvd., #37, (beside Thrifty Ice Cream), San Carlos, Sonora, Mexico 85506 (see map below)
Email: fortes.mariana@hotmail.com
Days & Times Open: Monday – Friday: 9:00am – 5:00pm. Saturday: 9:00am – 2:00pm.
Have you used American Dental? What did you think?