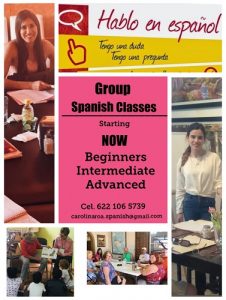 Spanish Classes with Carolina & Elizabeth Starting Now!
Hola amigos!
Come join one of our classes and improve your Spanish over the winter. We have a variety of levels, days and times.
You can choose what best suits you or you can meet us beforehand to determine your level.
Feel free to contact us via email or phone to ask about our existing groups or any other question you might have.
With Carolina
At Mr. Iguana's Restaurant
On Mondays & Wednesdays 
Cel: 622-106-5739
Email: carolinaroa.spanish@gmail.com
With Elizabeth
At Colibrí's Restaurant
On Tuesdays & Thursdays 
Cel: 622-106-4827
Email: elizabethroa.spanish@gmail.com