The Sunset Bar & Grill — casual dining with flare with your feet in the sand. Located right next door to the Soggy Peso Bar on the beautiful soft white sands of Algodones beach, Sunset Bar & Grill has something for everyone. Our dining atmosphere is hippie eco-chic.
In the mood for a delicious burger and fries? Then try one of our famous Ranchitos or Gourmet burgers. We also offer a veggie burger. Or why not order one of our most popular dishes, the Black Arrachera Beef or our Grilled Catch of the Day. We have a variety of mouth-watering appetizers and sides to go with your meal. Whatever you choose from our eclectic menu, be assured that it will be made with the finest, freshest ingredients. And of course, don't forget to ask your host about the Dessert of the Day!
With seating capacity for 90 people, we're ready to take your order. Dine in our open-air restaurant; take a seat outdoors; or hang out on our swings with a refreshing Sunset Mojito. We're here to make your dining experience at Sunset's unforgettable.
Sunset Bar & Grill offers stunning views on the best beach in San Carlos. Known for the friendliest, personalized service in town, we're waiting for you!
Hours: Open Thursday to Monday from 8am – 10pm serving breakfast & lunch from 8am to 2pm (including the new fresh seafood lunch menu), a limited menu between 2pm – 3pm and our regular dinner menu from 3pm-10pm. Open 3pm – 10pm on Tuesday and Wednesday for dinner.
Weekly Entertainment:
Wednesday: Sensa Nova, 6:30pm – 9:30pm. Thursday: Cadenza, 6:30pm – 9:30pm. Friday: Bad Rumors, 7pm – 10pm. Saturday: Son Desierto, 7pm – 10pm. Sunday: Utopia Unplugged, 6:30pm – 9:30pm. Tuesday: Dany Moreno, 6:30pm – 9:30pm.
Check out the weekly newsletter to stay up to date on entertainment in town.
Check out some of our delicious food and drink options!  And don't forget dessert!
Menus (click to enlarge)
as of May 2021
Bar Menu as of May 2021
Menú español a mayo de 2021
Breakfast menu as of November 2022 (English & Spanish)
We are the dining option when you want to dine in style.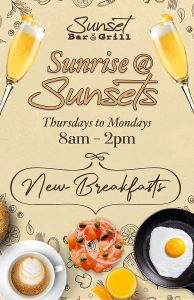 NEW: Sunrise @ Sunsets! Sunset Bar & Grill invites you to come try our new breakfasts on the beach! Try our bagels & lox, egg casserole, Vaquero special, or decadent crêpes! Enjoy the quietest time of day and the calmest waters on the beach sipping a Cappuccino or a Sunrise Mimosa! Until December 15 we will give you a 15% discount on your total breakfast tab! (This does not apply to the lunch/seafood menu).
Contact Us
Phone: 622-109-0003
Address: Located on Algodones Beach, KM 20, right next to the Soggy Peso Bar
Email: sunsetsancarlos@hotmail.com
Facebook: Sunset Bar and Grill
Have you eaten at Sunset Bar & Grill? What did you think?