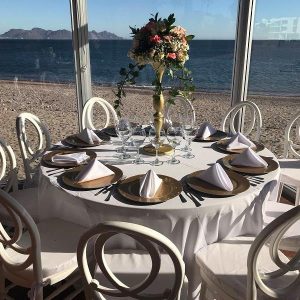 Enjoy air conditioned beach-front dining at El Mar Restaurant on La Posada Beach. Open every day but Monday. Service breakfast, lunch, and dinner.
Lounge by and play in our beachside pool – $50 pesos per person. Pool is open from 8am to 8pm.
Breakfast: Omelets, Egg McMuffins, Huevos Rancheros, Eggs Benedict, Chicken Fried Steak and more.
Lunch and Dinner: Burgers, Cheese steaks, Create Your Own Salads, Chiles Rellenos, Enchiladas, Mexican Combos, Fish & Chips, Tortilla Soup, Sandwiches and more. We Cook Your Fish.
Daily Specials include:
Tuesday: Chiles Rellenos a la Isabel
Wednesday: Pork Ribeye with Apple Sauce
Thursday: Fettuccini Alfredo with Shrimp
Friday: Fish & Chips
Saturday: Coconut Shrimp
Sunday: Breakfast Buffet from 8am – 12pm, $160 pesos. Drinks not included. Enjoy Isabel cooking omelets or eggs any way you like, bacon, beans, fried potatoes, chilaquiles, hotcakes, French toast, fruit and more. Chicken and tamales or Pork and rajas on alternating Sundays.
Beer Selection: Tecate, Tecate Light, Amstel, Bohemia, Coors Light, Heineken, Indio, Miller, XX Lager, XX Ambar.
Hours: Open Tuesday – Saturday, 7am – 9pm; Sunday, 8am – 9pm. Closed on Mondays. Serving Breakfast, Lunch & Dinner. Closed on Mondays. For your reservation or to place a take-out order, call 622-226-1008.
Menus (click to enlarge)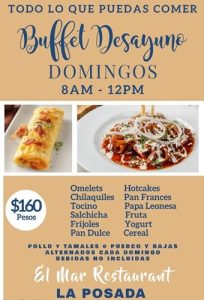 Join us at the Pool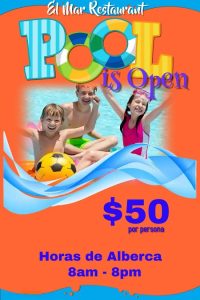 The pool is Open at El Mar Restaurant for summer 2022.
The cost is 50 pesos per person.
Beat the heat by jumping in the pool at El Mar today!
Contact El Mar
For Information or Reservations, call 622-226-1008.
For Information on our Meeting Room, Event Center or Wedding Planning, call 622-226-1003.
For questions or reservations, call 622-125-4837.
Follow us on Facebook.
Have you eaten at El Mar Restaurant? What did you think?