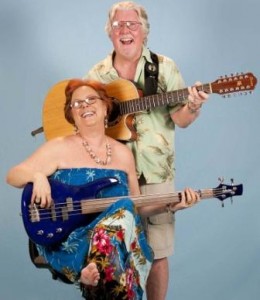 The Sahlen's rock and roll roots go back to working with Spanky and Our Gang (known for the song, "Sunday Will Never Be the Same") and The Mamas and the Papas.
Listen to Bobby & Lesley's songs:
MexMo Record Label
Bobby and Lesley have their own record label called MexMo. Local talent, including The Twins, Mark Mulligan, and Eric Holland have all recorded their CDs in the Sahlen studio. Local musician, Christie Forester, has recorded seven CDs with MEXMO. Los Cuates (The Twins) recorded their current CD, "Two Thirds" and engineer, Lesley, mixed Eric Holland's new signature song, "Uno Mas Cerveza" (One More Beer), and dubbed in the Twins singing over Eric's instruments (a very unique kind of Espanglish!)
Bobby and Lesley collectively have produced music, worked with PBS specials and promoted Music Festivals with bands like The Byrds.
Contact Bobby & Leslie
Schedule: You can watch Bobby & Leslie play throughout the week at several local restaurants. For an up-to-date schedule, please see the most recent Newsletter.
For booking information call 226-1741.
For more information, check out Gatorlegs Music.
Rate Bobby & Leslie Sahlen and Leave a Comment: