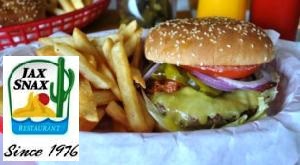 Serving you breakfast, lunch, and dinner, Jax Snax has the biggest and best variety of food on the menu for the whole family! Daily breakfast specials. Best burgers in town. Teriyaki chicken or beef rice bowls. Pizzas. Mexican dishes. Salads. Plenty of Vegetarian options. Milkshakes….and much, much more.
Our licensed restaurant serves beer and wine. There is no corking fee if you bring your own wine. We'll cook your fish for you, plus two sides for only 125 pesos. Enjoy an ice cream, homemade pies or flan for dessert.
Menu items also available for Take-Out service. Call 622-226-2051 with your order.
Free wireless  internet.
We also have plenty of free parking behind the restaurant. Established in 1976, Jax Snax was the first restaurant in town. Our family-friendly restaurant has seen three generations of customers. We continue to serve our community with the same dedication to quality, service and cleanliness that we have always been proud of. We serve delicious food that has stood the test of time.
Check our Facebook page for daily Food & Drink Specials.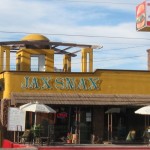 Contact Us
Phone: 226-0270
Address: On the Main Street (Tetakawi Blvd.), Km. 10 Plaza Comercial Creston, San Carlos, Sonora Mexico
Email:  jaxsnax@hotmail.com
Facebook:  Jax Snax

Days & Times Open (hours of operation): Open Everyday from 7:00am – 10:30pm. Take-out orders or group parties & events, please call 226-0270.

Have you eaten at Jax Snax? What did you think?