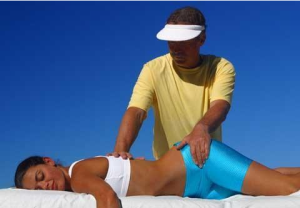 A therapist since 1970 has given Prof. Molina a unique understanding of the body. With his experience running a large physical therapy clinic in Honolulu for many years, and his own for over 40 has given him the tools and knowledge for treating the worse kind of back and neck problems.
Molina method includes many types of therapies. He is trained in True Sports and Medical Massage as thought in Europe and Russia. Not like is practiced in most places, he combines deep & connective tissue, osteopathy, Cyriax friction, mobilizations and Rolfing type fascia work. This combination gives him the tools to assist change in your structure for improving your physical health, with athletes to increase performance and reduce the recovery time.
Molina worked with Nike professional runners, Honolulu Ballet many years with IRONMAN, and the Honolulu Marathon. Was the first to have a Certified State School of Massage in 1979, and has trained thousands of student.
Many of us have lived with pain at some point in our lives. Try our system of manual therapy and exercises designed to assist you to correct your own body. You can turn your life around you need help from a professional and experienced therapist.
Learn how to work with gravity, instead of gravity working you.
Phone International: (916) 598-5525
Mexico Cell: (622) 123-3175
Website: molinamassage.com
Email backdoc.molina@gmail.com
If you have "Back challenges" see website article of same name.
Specialize in True Medical and Sports massage, as taught in Europe and Russia.