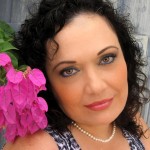 If you've heard her sing, you'll undoubtedly agree. Lorena Robles has a voice that caresses the soul. How did we San Carlos residents become lucky enough to have her here performing every night for our listening pleasure?
Growing up in Hermosillo as the middle of 5 children, Lorena was born into a family of musicians. Her grandfather on her mother's side was a singer, composer, and played the guitar, piano, and mandolin. Both of her parents sang too – not professionally, but with passion and joy, and she was always listening to melodies around the house.
They encouraged all of their children to sing, and Lorena has fond memories of singing with her three sisters in the school's choir. In High School, Lorena learned to play the guitar, where she played Latin American songs with other guitarists at school. She loved it, and decided to study music at a technical level at the University of Monterrey in Nuevo Leon. Her initial plan was to study classical guitar in order to become a concert performer. When it was time to choose a secondary instrument, she picked "singing". It was then that Lorena discovered its possibilities and decided to focus on her voice, only playing guitar as an accompaniment.
Lorena learned English in school too. Her favorite American musician is the late Whitney Houston. Her rendition of Houston's "I Will Always Love You" is exceptionally moving. Lorena's favorite Spanish-language musician and the one who has had the most influence on her craft is Eugenia Leon, a popular Mexican singer. Lorena loves languages, and sings songs in English, Italian, Portuguese, and of course, in her native Spanish.
Lorena has performed all over Mexico – first in Monterrey, then on to Mexico City. Here she studied popular music, and also taught voice and guitar. She has sung solo, and also with her sisters who are part of Grupo Stretto. Some of you might recall their memorable sold-out PAC performance a few years ago at the San Carlos Hotel. Her two sisters are still in the band. Lorena was invited to sing at the prestigious Palacio de Bellas Artes in Mexico City; she has performed in Alamos, Navojoa, and Obregon many times as part of the FAOT Music Festival over the years; and has played in restaurants and concert halls in Hermosillo.
Lorena has sung in front of small, intimate audiences, as well as in an auditorium packed with more than 2000 people. In 2002, with the help of Radio Sonora, Lorena recorded her first CD titled "De Pronto Sucedio", soon to be followed in 2004 with "Valio La Pena", and in 2009, she recorded a CD in Portuguese, and then recorded "By Request", with songs both in Spanish and English.
She came to San Carlos five years ago for the first time to listen to Mark Mulligan, who was playing at La Palapa Griega (as he still does today). Mark saw her with a guitar, and asked Lorena to come on stage to perform in front of his American and Canadian audience. Well, we fell in love with her, and she has been performing in San Carlos ever since. The song she likes to sing the most is "Don't Cry for me Argentina".  It was a request from an American couple many years ago, and she still sings it with the same passion and joy that her parents used to show in her home over 40 years ago.
Lorena now lives in San Carlos full-time, where she has many friends and is delighted to be performing again. She has two daughters – the eldest is in university studying violin at one of the best conservatories in Mexico, and the other is in high school with plans to study tourism.
You can catch Lorena's show and experience her amazing talent at many restaurants here in town. Check the Calendar of Events in the What's Up San Carlos newsletter for her current schedule. She is also available for private functions, such as anniversaries, weddings, parties, or if you just have a reason to celebrate. Additionally, she teaches voice and guitar here in San Carlos.
Contact:
Telephone: 662-315-3464 (cel)
Email: milore2010@yahoo.com.mx
Facebook: Lorena Robles