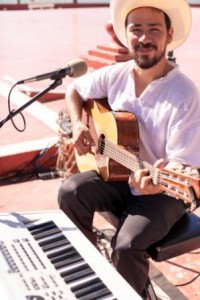 Omar Arriaga started learning music at age 15 in Obregón, Sonora.  At 18, once he finished High-School, he went to México City and studied at the National Conservatory of Music.  He has played with bands and as a soloist for several years, playing diverse styles.  Lately he has been performing piano music at several restaurants, bars and clubs in San Carlos Mexico.
He plays classical tunes, traditional music, jazz songs, mexican music, rock songs, movie themes, ragtime, and improvises on themes as well.
Professional musician with more than 10 years of career; Performing Pianist in Public and Private Concerts; Guitarist and Singer.
He studied the Piano Degree at the National Conservatory of Music in Mexico City.
Musical genres: Instrumental and Vocal Music, Classical, Jazz, Mexican, American, Romantic, Tango, Bolero, International, Improvisation, Popular, Traditional, Ballad, Classic Rock, Country, Folklore.
Contact Omar at gerardoarriaga@hotmail.com or call 622-103-4682. Omar online.
Omar playing a beautiful piano piece surrounded by spectacular San Carlos scenery
Omar's Schedule:
You can watch Omar play throughout the week at several local restaurants. For an up-to-date schedule, please see the most recent Newsletter.
Rate Omar Arriaga & Leave a Comment: