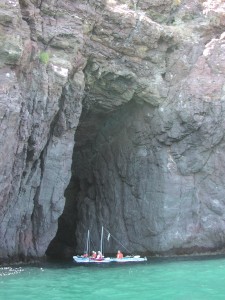 I am a Biologist, a Naturalist, and a Sea Kayak Guide in the beautiful beach town of San Carlos Mexico.
Family and friends coming to visit? Do you want them to experience the beauty and wonder of San Carlos, to really understand why you love it here so much? Why don't we take them kayaking?
Out on the water we can truly enjoy the gorgeous scenery, the interesting wildlife, and the feel of the Sea of Cortez beneath us. Combine it with a swim or snorkel and a little beach time; what better way to show off this incredible location?
Trips are in stable and dry double kayaks and include basic instruction, all required equipment, a light snack and a biologist as your guide. Suitable for all ages and fitness levels. Call Jack for more information.
In San Carlos, the coast is jagged and rocky, with high headlands and deep, sheltered coves that are perfect for paddling. This range, called the Sierra el Aguaje, runs from just south of Guaymas, north through San Carlos to Tastiota, encompassing about 40 miles of coastline. Protection from surf means easy and safe launchings and landings. The rocky shore is good for fishing and snorkeling.
Kayaking is not blue-water sailing: we want to be among the reefs and shallow areas. Here, in the clear water, we can see schools of fish, watch birds diving for their dinner or resting on the cliffs, and playwith the waves and currents. And the rocky coast of the Sierra el Aguaje is the best place in all of Sonora to get our blades wet and have some fun.
A three-hour tour costs $40/ person, snack included.
Kayak Paddling lessons
You can try Kayak Paddling lessons. Thinking of buying a kayak? Want to get the basic skills to make your paddling adventures as safe and fun as they should be? Jack Wilde has been teaching and guiding sea kayaking for eighteen years and is offering a simple safe paddling course. Spend a couple of hours paddling with Jack. He will help you improve your paddling strokes, and teach you some techniques to launch and land safely, minimize fatigue and help you get in and out of tight spots. Jack will provide the kayaks and equipment. You bring your own drinking water and a willingness to learn new skills. Call Jack Wilde at 622-138-1805 for dates and fees.
Let's go paddling!
Jack Wilde, Jack Wilde Adventures
jackwildeadventures@gmail.com
226-1293 or 044-622-138-1805(cell)