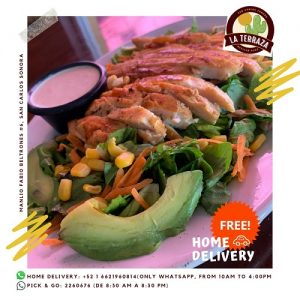 At La Terraza Bar, savor the taste of authentic Mexican food.
Located on the main street, Tetawki Blvd, beside the Flecha gas station and across from Los Jitos hotel, La Terraza Bar is open every day except Tuesday for breakfast, lunch, and dinner. Enjoy a traditional Mexican breakfast, the popular San Carlos Eggs. With 2 fried eggs, chilaquiles, toast and beans, you're sure to start your day off right.
For lunch or dinner, try our delicious Terraza Burger with fries, our Chiles Rellenos, or one of four types of Enchiladas. Can't decide — then the Mexican Combination platter is the perfect choice. Or, try the Molcajete (for 2 people). Delicious shrimp, chicken, and steak served with melted cheese and a side of marinade sauce, beans and guacamole. With beef, fish, shrimp and salads on our menu and a fully-stocked bar, we have something for everyone.
You can eat inside our comfortable air-conditioned restaurant, or outside on the patio while you watch your favorite sports team on TV.  Or call us for your Take Out order. If you have 10 or more people and meal orders, we'll deliver your meals to your house for free.
La Terraza Bar Menu
Happy Hour and Food & Drink Specials
Happy Hour is every day! From 3:00pm – 6:00pm, enjoy 2 x 1 Margaritas, or 2 x 1 Tequila shots.
Monday: Menudo/Pozole & Salads, 95 pesos
Wednesday: Taco Fish / Taco al Pastor, 25 pesos
Thursday: Chilaquiles, 80 pesos; Tecate Light, 20 pesos; Tequila shot, 50 pesos
Friday: $1 USD Beer (Indio, Tecate Light, XX Lager)
We've got games at the patio bar — Dominoes, Checkers, Backgammon, Cards, and more. Just ask your server. Come out, have a drink, and have some fun at La Terraza Bar.
Entertainment this week
Check the weekly Whats's Up San Carlos newsletter for up-to-date events and entertainment.
Contact Us
Phone: 622-226-0676. Call for reservations or your "Take Out" order. For 10 people or more, we will deliver your order for free.
Address: On the main street, Tetakawi Blvd, beside the Flecha gas station, across from Los Jitos hotel in San Carlos, Sonora
Facebook: La Terraza San Carlos
Days & Times Open (hours of operation): Open Monday, Wednesday, Thursday and Sunday from 7:30am – 9:00pm; Friday and Saturday from 7:30pm – 10:00pm. Closed on Tuesday.