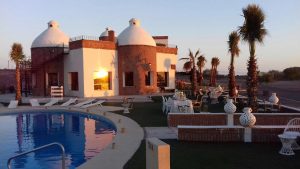 Bonifacio's is NOW OPEN at its new location.
By Marina Real, heading up towards the Mirador look-out. We are on the right side, in the new El Mirador Residencial.
Bonifacio's Cotton Club offers an eclectic fusion cuisine inspired in Mexico. Featuring oceanview dining with a lunch and dinner menu full of creative gourmet dishes including the freshest seafood, meat, chicken, and vegetarian meals. For lunch, try our best-in-town Bonifacio's hamburger & fries, or our popular marlin or shrimp Taco Governadors, while relaxing by the pool. Enjoy the view from the rooftop lounge, watch water sports, or sip on a cocktail while watching an unforgettable sunset.
For dinner, experience the elegance of our indoor, air-conditioned dining while feasting on our mouth-watering Sesame Tuna or Surf and Turf Brochette. And don't forget to order a delicious caramel crepe with vanilla ice cream for dessert. Whichever meal you choose, it is sure to delight your taste buds!
Our bar is fully stocked and our restaurant has the best views in San Carlos, the friendliest staff, and the best ambiance. Visit us today.
Enjoy your special event at Bonifacio's. Create memories for your guests that will last a lifetime. We offer catering for your special evening in San Carlos. We have an event planner available at your service for your special event, party, anniversary or celebration.
Are you getting married? We specialize in Destination Weddings with fancy receptions, dining, and dancing. Come and celebrate your special day with us. We can help you make all the arrangements to make this the most memorable day ever. Contact us for details.
 
Check out some of our Menu Items
Food and Drink Specials (may not be applicable at new location; stay tuned for details)
Evening entertainment throughout the week. 
See the calendar in the What's Up San Carlos newsletter for our live music schedule. 
Contact:
Address: By Marina Real, heading up towards the Mirador look-out. We are on the right side, in the new El Mirador Residencial.
Website: www.bonifacios.com/Bonifacios_Cotton_Club.htm
Email: cottonclub@bonifacios.com
Facebook: Bonifacios Cotton Club
Call 622-109-0031 to make a reservation.
Days & Times Open (hours of operation):
Monday to Friday: 11:00am to 11:00pm
Saturday and Sunday: 11:00am to 11:00pm

Have you eaten at Bonifacio's Cotton Club? What did you think?