NOTE: Due to COVID-19, Delfines Bar and Grill is changing their hours, from 10:00am – 8:00pm every day. Curb-side take-out is available, as well as FREE home delivery. Call 622-226-0499 for your order.
Delines Bar and Grill is San Carlos's finest international dining experience with a full service bar and bilingual staff. We've just been awarded a 2017 Certificate of Excellence from TripAdvisor, based on the consistently great reviews we've earned.
Open for lunch and dinner, Delfines uses only the highest quality locally sourced and imported ingredients.
The lunch menu offers 12 sandwiches from all over the globe, along with salads, soups and delicious appetizers. From a New Orleans Muffaletta to a New York Cheese Steak or a San Francisco Italian Sub, Delfines Sandwiches are the best in San Carlos — and all of our appetizers are homemade and unique.
The Delfines dinner menu is spectacular, offering a wide variety of 18 specialty entrées each served with soup or salad, starch and seasonal veggies. Kung Pao Chicken, Proscuitto/Asiago Chicken Pasta, Ginger Citrus Shrimp, Fire Thai Filet, Fresh Catch of the Day and many more.
Particularly known for our 1300 degree broiled Filet Mignon steaks, Delfines uses only prime, twice-trimmed, aged filet mignon for all beef entrees — all of which are served with a dazzling array of signature sauces and accompaniments.
All entrees are prepared to order so that they can accommodate any palate, and many are gluten free. By reservation, Delfines has the only Teppan Table in San Carlos — perfect for special nights, or just a great show!
Delfines has a magnificent and elegant bar with the largest variety of wines in San Carlos and, if you're feeling frisky, you can order a Dirty Dolphin — their "serious" house specialty drink!
On Fridays and Saturdays during the high season, Delfines showcases live music from the Delfines Stage on their new multi-level patio.
All of Delfines' staff is fully bilingual, and trained to provide the most professional dining experience in San Carlos.
Open from 11:00am – 11:00pm on Monday, Tuesday, Thursday – Sunday. Closed on Wednesday for the summer season. For reservations, questions or inquiries about catered events in your home, please feel free to contact Delfines' owner Patricio personally at 622-226-0499.
Lunch Menus (click on menu to enlarge)
Dinner Menus (click on menu to enlarge)
Teppanyaki Grill 

Teppanyaki is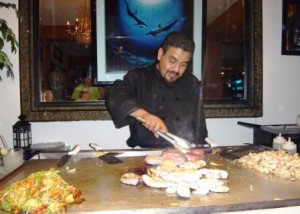 a style of Japanese cooking on a hot flat top griddle in the center of the table. Our specially trained chef cooks your food with light seasonings and fresh ingredients for your entertainment and palatable pleasure. Grab your friends and join us for a night of excitement!!!!!
PLEASE MAKE RESERVATIONS IN ADVANCE.
SEATINGS at 5:00pm, 7:00pm, 9:00pm. PARTIES of 6-16 PERSONS.
The price for the Teppan grill is market prices — please call for exact prices because the prices for the Teppan menu vary.
Due to customer requests, Thursday nights will be open seating for the Teppanyaki Grill, starting at 6:00pm. Please arrive no later than 6:30pm.
Entertainment
Keep an eye on the What's Up San Carlos newsletter for current Entertainment. 
Please come early, or call to reserve your table @ 622-226-0499!
Contact Us
Phone: 226-0499
Address: Blvd. Manlio Fabio Beltrones, across from Pemex and kitty corner to Los Jitos, San Carlos, Sonora Mexico 85506
Email:  delfinesbarandgrill@gmail.com
Website: delfinesbarandgrill.com.mx
Days & Times Open (hours of operation): Open from 11:00am – 11:00pm on Monday, Tuesday, Thursday – Sunday. Closed on Wednesday for the summer season.
Delfines Bar and Grill Restaurant Review: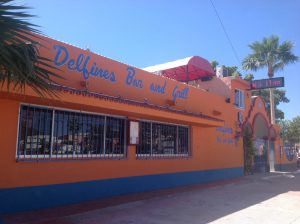 This week (2013), a group of friends and I had the opportunity to eat at the recently opened Delfines Bar and Grill, located across from Pemex and kitty corner to Los Jitos. The beautiful interior and low-level lighting gave an ambience of upscale dining. The classy bar is stocked with wines and liquors from around the world. The sound system is state-of-the-art, and internet is available. Big and smaller screen TVs are located throughout the restaurant, enabling popular sports events or music videos to be shown.
With a seating capacity of over 55 people, there is room for everyone to enjoy this fantastic dining experience.
Owner Patrick Cusack understands the restaurant business from the ground up – the importance of absolute cleanliness in the kitchen, using the freshest ingredients and the very best cooking tools. Patrick oversees it all and ensures that everything is up to his high standard of service excellence and taste. He has been coming to San Carlos since he was a kid, and has owned a number of successful restaurants in the US.
There are many options on their menus. They have a full and varied lunch menu and a dinner menu, and they will also be serving a late night menu with simple and fast to order items like tacos, burgers, and burritos for the late night owls!
They also want to offer their guests something out of the ordinary and have a "teppanyaki" grill (teppan meaning "steel grill" and yaki meaning "broiled"). We chose to sit around the teppanyaki hotplate and watch the skilled maneuvers of the entertaining bilingual Chef Alfredo (pictured above) as he prepared our food. Our fixed-price meal included a tasty Thai-inspired salad with oranges. This was followed by a Miso soup. Next, an abundance of fresh shrimp were prepared on the steel grill, and served out to our group of 8. We each had three different home-made sauces to dip the shrimp in.
Next, the chef combined eggs, rice, and many different kinds of vegetables together in a delectable and fresh fried rice. Beef and chicken were then prepared "hibachi-style" (an American-style term for "teppanyaki" cooking). We watched in amazement as these items were sliced, diced, spiced and grilled. The timing in this type of cooking is critical, as these different foods were ready to serve onto our plates simultaneously.
We finished off this meal with a bowl of ice cream, with nuts and a chocolate sauce, topped by a strawberry. This 5-course meal was about $25 USD per person. For non-meat eaters, Patrick and his staff were able to substitute a delectable yellowtail fish for the beef and chicken.
At Delfines Bar and Grill, it's not just a meal – it's an experience. For a fun, unique, and memorable occasion, book a seat at the Teppanyaki table by calling 226-0499. Your taste buds will be glad you did!
Have you eaten at Delfines Bar and Grill? What did you think?