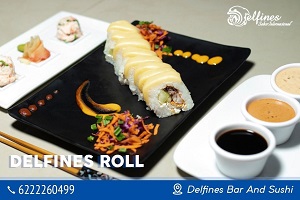 Delfines Bar and Grill is San Carlos's finest international dining experience with a full service bar and bilingual staff. We've just been awarded a 2017 Certificate of Excellence from TripAdvisor, based on the consistently great reviews we've earned.
Open for lunch and dinner, Delfines uses only the highest quality locally sourced and imported ingredients.
The lunch menu offers many sandwiches from all over the globe, along with salads, soups and delicious appetizers. From a New Orleans Muffaletta to a New York Cheese Steak or a San Francisco Italian Sub, Delfines Sandwiches are the best in San Carlos — and all of our appetizers are homemade and unique.
The Delfines dinner menu is spectacular, offering a wide variety of specialty entrées each served with soup or salad, starch and seasonal veggies. Kung Pao Chicken, Proscuitto/Asiago Chicken Pasta, Ginger Citrus Shrimp, Fire Thai Filet, Fresh Catch of the Day and many more.
Particularly known for our 1300 degree broiled Filet Mignon steaks, Delfines uses only prime, twice-trimmed, aged filet mignon for all beef entrees — all of which are served with a dazzling array of signature sauces and accompaniments.
All entrees are prepared to order so that they can accommodate any palate, and many are gluten free. By reservation, Delfines has the only Teppan Table in San Carlos — perfect for special nights, or just a great show!
NOW SERVING SUSHI! Check out the menu below for all our delicious options! On Fridays, buy 2 Sushi meals and get two FREE Tecate Lights.
Delfines has a magnificent and elegant bar with the largest variety of wines in San Carlos and, if you're feeling frisky, you can order a Dirty Dolphin — their "serious" house specialty drink!
On Fridays and Saturdays during the high season, Delfines showcases live music from the Delfines Stage on their new multi-level patio.
All of Delfines' staff is fully bilingual, and trained to provide the most professional dining experience in San Carlos.
Open from 11:00am – 8:00pm on Monday, Tuesday, Thursday – Sunday. Closed on Wednesday for the summer season. For reservations, questions or inquiries about catered events in your home, please feel free to contact Delfines' owner Patricio personally at 622-226-0499.
Sushi Menu (click on menu to enlarge)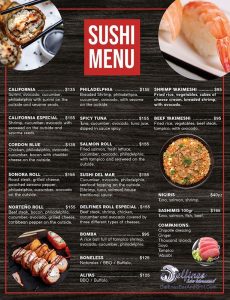 Lunch Menus (click on menus to enlarge)
Dinner Menus (click on menus to enlarge)
Teppanyaki Grill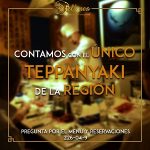 Teppanyaki is a style of Japanese cooking on a hot flat top griddle in the center of the table. Our specially trained chef cooks your food with light seasonings and fresh ingredients for your entertainment and palatable pleasure. Grab your friends and join us for a night of excitement!!!!!
PLEASE MAKE RESERVATIONS IN ADVANCE.
PARTIES of 6-16 PERSONS.
The price for the Teppan grill is market prices — please call for exact prices because the prices for the Teppan menu vary.
Entertainment
Keep an eye on the What's Up San Carlos newsletter for current Entertainment. 
Please come early, or call to reserve your table @ 622-226-0499!
Contact Us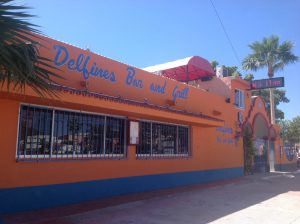 Phone: 622-226-0499
Address: Blvd. Manlio Fabio Beltrones, across from Pemex gas station and kitty corner to Los Jitos, San Carlos, Sonora Mexico 85506
Email:  delfinesbarandgrill@gmail.com
Website: delfinesbarandgrill.com.mx
Days & Times Open (hours of operation): Open from 11:00am – 8:00pm on Monday, Tuesday, Thursday – Sunday. Closed on Wednesday for the summer season.
Have you eaten at Delfines Bar and Grill? What did you think?