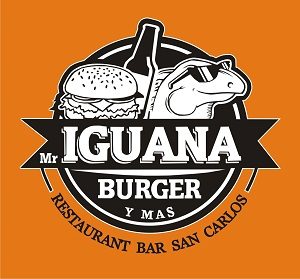 NOTE: Due to COVID-19, Mr. Iguana is closed.
Mr. Iguana has it all. We serve breakfast (we make the best chilaquiles in town), lunch (try our most popular Mr. Iguana burger made with rib-eye steak) or 7 other gourmet burger options), and dinner (we're famous for our Mega Nachos, Fish tacos, and Club Sandwich) at our spacious restaurant located right along the main street in San Carlos.
With Daily food and drink specials, live music almost every night, a fully-stocked bar, 2 Pool Tables, Corn hole games, 10 big-screen TVs, 2 Projectors, DirectTV, free wifi, and lots of parking, Mr. Iguana Burger is the perfect place to relax and enjoy the best Mexican food in San Carlos.
We have a secured parking lot on weekends.
Mr. Iguana Menu
Happy Hour and Food & Drink Specials:
We don't have limited Happy Hour times. In fact, everyday, all day, always, we have Happy Day! Come in an enjoy a regular size draft beer for only 15 pesos. Now isn't that a reason to be Happy!
Additional Drink Specials include:
Mondays: 20 peso Shots (House Tequila, Rum, Vodka)
Tuesdays: 2 x 1 Margarita Day (all flavors)
Wednesdays: 2 x 1 Mixed Drinks (House Whiskey, Vodka or Rum)
Thursday: 2 x 1 Margarita Day (all flavors)
Sundays: 40 peso Special Bloody Marys, and 2 x 1 Beers (varies each week)
If it's Game Day, enjoy a Hot Dog & fries for 50 pesos, and a Traditional Burger & fries for 70 pesos.
Entertainment
Check the weekly Whats's Up San Carlos newsletter for up-to-date events and entertainment.
When the game's on, watch your favorite sports team on one of our 10 big-screen TVs.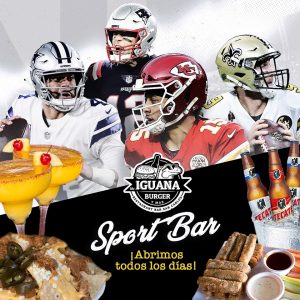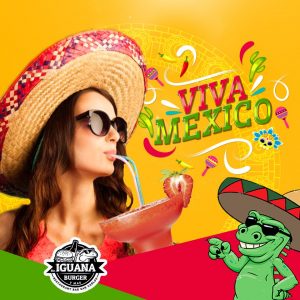 Contact Us
Phone: call 622-124-1691 for your reservation or take-out order.
Address: on Beltrones (the main street) by Calle Tierra, Sector Crestón, across from the ARCO gas station
Follow us on Facebook: Mr Iguana San Carlos
Days & Times Open (hours of operation): Open every day! Monday – Sunday from 8:00am – 8:00pm.
Have you eaten at Mr Iguana? What did you think?