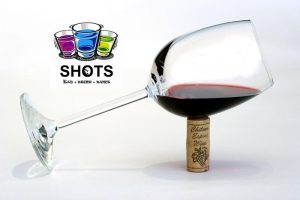 Shots Bar, Club & Restaurant is located on the Malecon at Marina San Carlos. Come and join us to have a drink in a fun, casual setting; to watch your favorite sports team; or to dance the night away.
With indoor and outdoor seating for over 70 people, we have something for everyone (including special vegan/vegetarian dishes). Enjoy our varied international menu made with fresh ingredients from local vendors created by chef Judy Harris, a variety of amazing shots and martinis, and fabulous views of the beautiful marina and Tetakawi.
We've got LOTS of free parking at the marina.
We have FREE WIFI and we do "Take-out". Call us at 622-226-1300.
Menus
Shots Farmer's Market every Saturday
Every Saturday, there is a Farmers Market in Shots restaurant and on the malecon in front of Shots at Marina San Carlos.
Stop by between 9:00am and 1:00pm to shop for fresh fruits and vegetables, baked goods, canned vegetables, beef jerky, doggie treats, crafts, full breakfast and lunch menus, and more—and of course, hot malasadas (Portuguese fried donuts).
Enjoy the ambiance of the Marinaterra malecon, and come join the fun.
For more information, call 622-226-1300.
A bit about our team:
Jon Harris: With over 25 years experience in the entertainment, music and restaurant industry, Jon opened up what would become one of the top 25 recording studios in the world. Phase 4 Studios housed 3 fully equipped multi-million dollar studios that specialized in bringing the utmost quality to even the most demanding artist. Throughout its history, Phase 4 Studios produced numerous Platinum and Gold Records as well as earning itself its share of Grammy awards. Among its clientele was Sheryl Crow, Jamie Foxx, Patti LaBelle, Guns N' Roses,  Alice Cooper, the Meat Puppets, Megadeth, and many more.
Jon opened the Phase 54 nightclub on top of the studios. An instant hit, it was hailed by Spin Magazine as one of the hottest nightclubs in the country. Catering to all types of clientele, Phase 54 was a nightly showcase for local talent that included art galleries, live music and fashion. As a cultural epicenter, Phase 54 would consistently bring in people from all over the valley including Scottsdale, Phoenix, Glendale, Tempe and even Tucson! Jon later opened Per La Lotta and Speakeasy Saloon and Grill Restaurant. He continues to consult with casinos, restaurants and bars in Arizona.
Judy Harris: Judy has over 20 years experience of owning a publishing company in San Diego, CA in the entertainment, travel and dining industry. She is a graduate of the Culinary Institute of America from St. Helena, CA and  apprenticed with renowned American Chef, Thomas Keller, from the highly acclaimed French Laundry in Napa California. Judy continues to consult casinos, bars and restaurants in Arizona, and as a restaurateur, Judy has partnered with Jon at Shots Bar and Restaurant and will be preparing unique specials of home-cooked meals from American, Hawaiian and Asian dishes.
CONTACT
Phone: (622) 226-1300 (restaurant). Call for reservations or for "Take Out".
Address: On the malecon at San Carlos marina by the Marinaterra hotel (previously Ruby Wine Bar). Blvd Manlio Fabio Beltones S/N LCMSC 04. San Carlos, Sonora Mexico 85506
Email: shotssancarlos@gmail.com
Facebook: Shots San Carlos
Days & Times Open: Open Tuesday – Sunday from 8am – 2am. Closed on Monday.
Have you eaten at Shots Bar, Club & Restaurant? What did you think?